Wow! It's been awhile. I can't really blame anything...

Well, I was sick for a week. During which time I watched all the TV. Not only did I clear my DVR, I enjoyed entire seasons of some shows, which are now being added to said DVR. I also watched a bunch of rom-coms, which I only watch when I'm sick. However, I wouldn't particularly recommend any of them. (OK, I thought Austenland was pretty cute.)
So what did I watch?
Gimme some TV that
goes down easy!
Arrow, The CW
Over the past few months, I'd slowly been catching up with Arrow (The CW's pretty-person reboot of DC Comics' Green Arrow). However, while sick I binge-watched the end of Season 1 and caught up with Season 2. Yes, it follows the CW's formula: people who all look sort of alike and yet are better actors than you expect, enacting adventurous yet preposterous tales. I like the CW formula, however. It's sort of a less-witty play on the Joss Whedon formula. No one will ever accuse Arrow of being anything but candy, but it's the Lindt truffles, rather than the Whitman's sampler, of teen TV.
The Americans, FX
Last year I DVRed The Americans but never watched it. In preparation for Season 2 (which begins tonight!), the first season was released free for Amazon Prime members. The Americans might be compared to FX/AMC/HBO shows that are about tough people doing tough things, but frankly I don't feel like I'm giving up my feminism to watch it (I'm looking at you, Mad Men.) The show centers on two Russian spies embedded in suburban DC, who pretend to be a clean-cut American family. Keri Russell and Margo Martindale play a couple of TV's biggest badasses, and all the women on the show (even the woman who is seduced into a sham marriage by one of the spies) are more complex than on your average television show.
Plus, it brilliantly evokes the early 80's, and that feeling that the world was balanced on the head of a nuclear pin. I remember how frightening it was too be a kid at that time, how central the USSR was to the news, how many of us worried that the world could end tomorrow. The Americans capitalizes on that paranoia brilliantly, and it's suspenseful even though we know the world didn't end.
True Detective, HBO
Now that's haggard!
What was that about feminism? Oh, hey Emily Nussbaum from The New Yorker, calling out True Detective for its thin female characters.
I haven't thought in depth about whether I agree with Emily (maybe she's right; but it's also a story told in the voices of White, Southern men in a rural area - so, this criticism seems more like criticism of the POV choice... whatever). I just know that I am absolutely mesmerized by this show. It is, in many ways, about what it means to truly live one's philosophy, even if that philosophy is brutal and nihilistic. Shot beautifully, with a stunning, haggard central performance by Matthew McConaughey, it's one of the best things I've seen all year.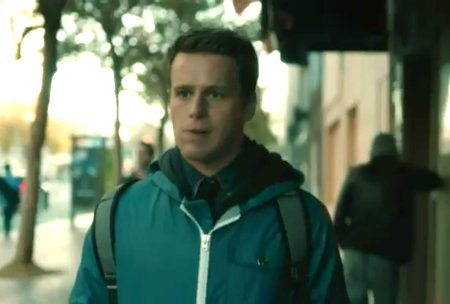 See. Cute as a bug in a backpack.
Looking, HBO
Lots of folks have called Looking the gay Girls. It's totally not. I hate Girls. I want to punch all the characters. I gave up on it at the beginning of Season 3. I might end up watching it (although I resisted all through my illness) because it totally sucks you in, but I'll feel guilty about it.
Looking is not like that. Looking makes me want to hug all the characters, even that poopy-pants Augustin. It is, quite simply, the most romantic show on TV right now. Yes, it's a kind of romance that will make the Fox News crowd uncomfortable (one whole episode centers around whether the main character can get over his shame of being a bottom), but it's romance all the same. Jonathan Groff, as usual, is too cute for words. If only he got to sing!
Speaking of Fox News and feminism...
I'll continue to watch The Mindy Project
as an act of resistance.
Is it just me, or is Fox totally undermining the ideals of Fox News? (The answer is YES). Although they have the same parent company (21st Century Fox), Fox has been quietly filling its prime-time slate with shows featuring strong, diverse female characters. In particular, their programming features women of color prominently: on Sleepy Hollow, The Mindy Project, Brooklyn Nine-Nine, The New Girl (no, I don't mean Jess), Glee, and Enlisted. The White female characters often come from diverse income backgrounds, ranging from Bones (tough crime-fighting anthropologist who grew up in the foster system) to Raising Hope (the family matriarch is a house cleaner who is a well-rounded, strong female character and has one of the best marriages on TV). While Fox News is consistently making statements that undercut women, people of color, and the LGBTQ community, their sister company is doing something much more powerful: telling stories that portray people from these backgrounds as agents of their own fates. I know that Fox is just trying to make a profit, but it makes me happy that they are participating in the unraveling of the prejudice that Fox News tries to sell.