Day 3: Favorite Carol: Religious-Themed
There's this one Yeats poem, called "The Magi," and he describes the three wise guys standing with
"all their eyes still fixed, hoping to find once more,
Being by Calvary's turbulence unsatisfied,
The uncontrollable mystery on the bestial floor."
This sums up the religious aspect of the holiday to me. I know most Christians dig Easter the most, but to me - maybe because of the scientific world we live in - I find the Nativity to be the much more miraculous. God becomes a helpless human baby, and thus learns what it means to truly feel the pain and joy that his children feel (a slightly blasphemous interpretation, I realize). Not only that, but he could have chosen anyone to be born as, and he chose the son of a poor family.
Photo: PlanetBarbarella
Because I'm so taken with the "uncontrollable mystery" of Christmas, I've always favored the religious carols over your Rudolphs and your Santa-babies. As a kid, I listened to the Joan Baez album Noel - a collection of traditional carols and hymns - from September to December. It just seemed silly to me that we only got to listen to these beautiful songs for one month out of the year. I'm pretty sure that my parents started to disagree with me after the 5,000th time they'd heard Joan warbling out "Carol of the Birds," but they managed to grimace through it.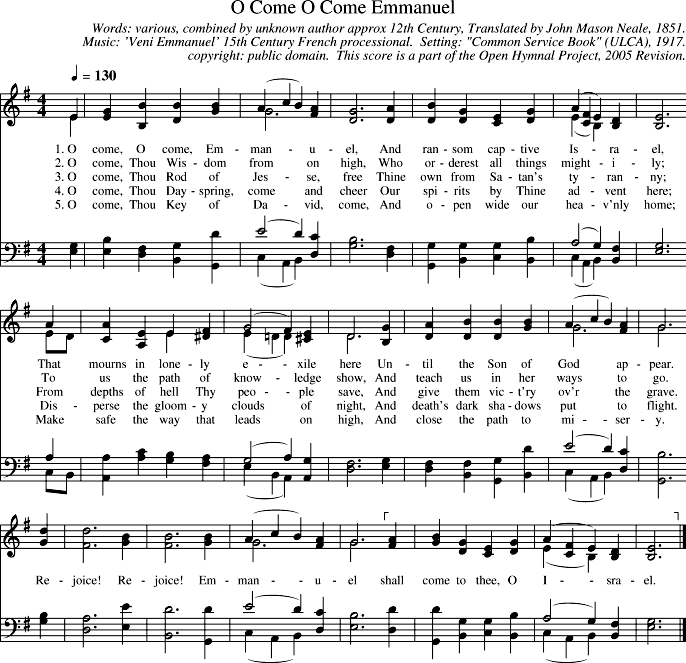 Photo: Openhymn.org
Which brings me to my favorite carol: "O Come, O Come Emmanuel." I like it because it sounds "medievalish" and reminds me of dark woods in the North - it's a song that connects us to the primal, pagan roots of the Solstice season, calling for light to come back into the world.
There are lots of great versions. It's a sad song, so I'm irked by triumphant versions - of course, I grew up listening to the Joan Baez cut. Rebecca St. James also has a good one, with some weird electronic background.
Right now, though, I'm loving this version by Kelly Clarkson: