The theme of this pop culture round up is "Grrrrl Power", as I realized that every one of the pop gems I'm featuring this season has a strong woman (or more than one) at the center, from a tough little girl to a spy to a powerful wizard.
I also got wise to the fact that the categories of "Movies" and "TV" and "Books" that I've been using make absolutely no sense in this crazy, mixed-up, interweb universe we live in. When I organize drawers I tend to organize by function (things that adhere; things that cut). So I've decided to take a similar approach to the categories below. Each title will include how I accessed the media - although there may be other ways to access these.
Things to Watch (Non-Serialized Variety)
Upstream Color, available OnDemand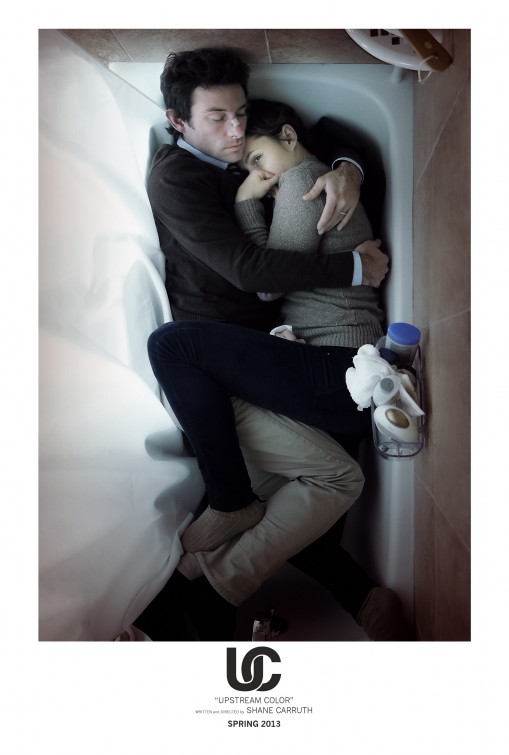 It's impossible to describe writer/director/actor Shane Carruth's new film,
Upstream Color,
without sounding ridiculous. As evidence:
it's about worms that get in your bloodstream and make you susceptible to brainwashing. And pigs. And orchids
. See? Ridiculous. But wade in. You won't regret it. If you watch it at home, I recommend turning off all the lights and turning off the phone, so you can get washed away just like you would in a real theater.
What Maisie Knew, in theaters
Maisie is a little girl with terrible parents who love her in the way that utterly self-absorbed people love others. She has two beautiful, young, and kind stepparents who are caught in the torrent of these terrible parents. Some awful yet ordinary things happen to her. If
What Maisie Knew
(based on the Henry James novella), was told with any distance, it would be hard to watch. It's told from Maisie's perspective, however, and you're brought into her world of toy animals and fabric crowns. Grounded by a remarkable performance by Onata Aprile, as Maisie, this is the kind of portrait of childhood that I haven't seen since 1996's
Ponette
(another stunner, if you haven't seen it).
Things to Listen To
I do almost all of my listening on Spotify these days. The premium account is around $10 a month and allows you to listen to playlists offline. I like having a steady stream of all the music on my phone.

I Was an Eagle, Laura Marling
Laura Marling's world is one of devils and angels. It's also a world of old-fashioned-style folk music: a girl and a guitar and her declarations and confessions. This isn't any harmonizey post-Mumford stuff (although, fun fact: Marling used to date the Mumford in charge). While nothing quite lives up to my favorite Marling song, "The Beast" (which is just scary), the album, particularly it's title track has been getting a work out on my computer headphones lately.


Things to Watch (Serialized)
Covert Affairs, Season 3, available on Amazon Streaming
When I was a kid, I made up stories about a girl spy named Jamie Pond, double-oh-six. So I'm basically the target audience for
Covert Affairs,
a show about a young female spy named Annie Walker. I recently started watching past seasons on Amazon. Seasons 1 and 2 were decent fun, like most USA summer shows. And then season 3 broke the case-of-the-week structure in favor of a season-long arc, dealing with what it means to be a woman staking claim to power, loneliness and loss, helplessness when our loved ones are in pain. I'd recommend the first two seasons to get to know the characters - particularly leads Annie and Auggie, played sympathetically by Piper Perabo and Christopher Gorham; and Oded Fehr as the recurring character of Mossad agent Eyal Levine. Once you're all caught up, though, you'll find that Season 3 is a whole different beast - stronger, darker, and deeper.
Orphan Black, BBCAmerica and Amazon Streaming
A young, punkish woman named Sarah stands on a train platform. She watches as another woman - this one well-dressed and business-like - jumps in front of a train. But just before the woman jumps, Sarah sees that they have ... the same face. This is the high concept beginning of
Orphan Black.
As Sarah investigates, she begins to find other women who look exactly like her. Each woman is played by Tatiana Maslany, who has got to be one of the most talented actresses working today. Playing a suburban housewife, a hippie scientist, an insane Ukrainian - just to name a few -- Maslany pulls off an incredible string of performances. Each woman is distinct from the others, and all of them are critical to the plot. My only
quibble with the show is that sometimes it's Canada-as-New-York production values are a little sloppy. Would an American husband use "I got up early to watch cricket" as an excuse for why he wasn't in bed? Probably not, but it's easy to brush nitpicking aside when the action and characters are so brilliant.
Top of The Lake, Netflix Streaming
Jane Campion's seven-part mystery series completely gets the dichotomy of living on the frontier. Though surrounded by beautiful scenery, you're also surrounded by poverty, crime, and lack of options. Those who choose to live in that rough world are often rough themselves. The series reminds me of the Northern Idaho country where I lived as a child, but in this case, it's New Zealand's lake country we are talking about. Elisabeth Moss (yes, from
Mad Men,
which I have not been watching this season) plays Robin, a detective who has returned to her home town to visit her dying mother. While she's back in town, she is called in to work on the case of a missing little girl. As the mystery deepens, Robin is forced to confront her past. Sounds familiar, right? You've seen this tale before. But the setting, the acting, and of course, the Jane Campion touches of weirdness, put
Top of the Lake
above your typical procedural. I wish that the final chapter wasn't
quite
so overwrought, but you can't do gothic without some twists and family mysteries.
Things to Read
Siege and Storm, by Leigh Bardugo
Siege and Storm
is the second book in Bardugo's "Grisha Trilogy," a series about a young woman living in a kind of alternate version of Tsarist Russia called Ravka. In
Shadow and Bone
, we learned that Alina is a wizard with a unique power. In
Siege and Storm,
multiple players are after that power. Alina is a likeable character to whom many a geek girl will relate. Even better, Bardugo's writing has become more lyrical and self-assured. With snappy dialogue, clearly-described action sequences, and lovely descriptions,
Siege and Storm
should bring the Grisha Trilogy above other similar YA novels, particularly those about glittery vampires.
TheMarySue.Com - A Guide to Girl Geek Culture
Why didn't I know about The Mary Sue earlier? It's a website about geek pop culture for girls! It's got articles about why Alice Eve had to take off her clothes in
Star Trek: Into Darkness
for no reason! It's my new favorite website.