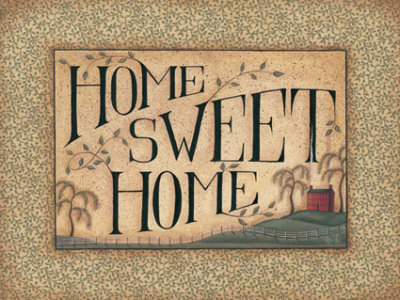 OK, so, I have boldly declared that 2012 will be the year I find a home. Of course, I have a place that I live, but I want to find a more permanent place that meets my vision of the home I want. My vision:

I live in a house in the woods. It's near water. There's a garden for vegetables. Maybe it's a cabin. No dogs, but 1-2 cats. Chickens. There's a porch with a swing and room for nieces and nephews to come visit. They can stay all summer. In the morning, drinking coffee on the porch every day (it NEVER gets cold in this place). Friends live nearby (or on the property). We have a little community.

Family and/or friends are nearby

I can gradually increase the amount of food that I will produce on my own (just gardening and chickens in the beginning, but maybe moving up to goats -- my mom calls this dream "the farm")

My house is small and so I have a minimal footprint

I can work from home comfortably

Although I'm in the country, I am near enough to a city that I can enjoy the cultural events that I like
I'm not exactly a pro/con list type of girl. I'm more of a "be still and listen for the voice of the universe," kind of girl. Nevertheless, there are a few locations that I'm considering, and they each have definite pros and cons.
Eastern Washington/North Idaho/possibly Western Montana
Pros:
My sister and nephew live here! (worth about ten bullet points in my mind!)

This is the country where I spent my formative years and I often find that my heart yearns for it.

It's some of the most beautiful country you will ever see.

Real estate = mostly cheap

Many wonderful friends live here

Nothing could be better than sitting on your porch with a beer on a September evening in this country
Cons:
The politics are mostly conservative.

In both winter and summer, I don't like the weather; the dry air makes one prematurely old.

Did I mention, it gets COLD?

The population isn't diverse, and the arts are not as readily available as where I currently live.

The economy is weak.
Houston, TX
Pros:
I have a great family of friends here.

The weather is awesome for several months of the year.

Arts and culture? You got it.

The ed reform movement is lively, which means more options for my future employment

The population is diverse

In the city, the politics tend to be more liberal than in the rest of the state.

The economy is relatively vital.

I already live here, so it's less effort!
Cons:
For 5 months of the year, the weather is like the mouth of hell.

Most of the state has very conservative politics.

The city tends toward sprawl, so if I was to establish a little garden paradise on the outskirts, it's possible it would be swallowed up by gross real estate developments.
Other options:
My friend Sara, from Feeding the Soil, is trying to start a pocket neighborhood in Austin. A pocket neighborhood is a small neighborhood with open space for all and a sense of shared stewardship (Click here to read more about Sara's concept). In many ways, this idea meets my vision. Yet I have lots of questions: is Austin the place for me? (I'm not necessarily a booster like most of the Hipster Nation). What would it be like to form a new community? Am I financially stable enough to make this happen?
There's also California -- my family lives there; North Carolina -- I have a random affinity for the place and know lots of people there; and Utah -- the place where I feel the most connected to the universe.
It's hard, when you love the world, to try to stake your claim to one part of it.