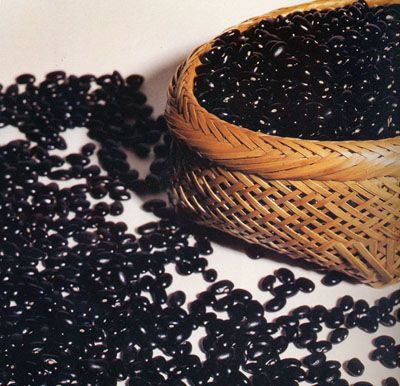 If you read food blogs, you've probably come across someone who rhapsodizes about the now-famous Tomato Sauce with Onion and Butter. It's a recipe that could not be simpler - canned tomatoes, an onion, butter. I know several people who are obsessed with it. I mean, why not? It's a recipe with three ingredients that tastes delicious.
I have my own similar obsession. It's a recipe that I make whenever I can't think of anything else to eat, when I need some comfort food, when I want to eat something really delicious, or basically any time.
Now, it's not the greenest recipe because all of the ingredients come in cans. But then again, cans are recyclable. And this recipe is vegetarian, and you can make it greener by buying the organic canned black beans.
It is ... Chipotle Black Beans!
(I usually use them to make bean tacos, which are my favorite food on earth, but you can use them as a base for soups, an enchilada filling, a side dish, or just slap them on a tortilla and eat).
1 can of chipotle peppers in adobo sauce (I like to use the San Marcos brand).
Open the cans. Drain one can of the beans and don't drain the other one.
Put the black beans in a pot. Add some of the chipotle peppers to the beans and stir. How many peppers you add depends on how much you like spiciness. If you don't like things too naughty, just add 1 or 2 peppers and a little of the sauce. If you're a real champion with an iron stomach, add the whole can. I usually add about half the peppers and as much sauce as I can scoop out.
Place the pot over medium-high to high heat. When the beans boil, reduce heat, cover, and simmer for 10 minutes.
When you uncover the pot, you'll probably see that the peppers have inflated and floated to the top. Scoop these out and discard. Re-cover and simmer for 25 minutes or more.
Remove the pot from heat. Uncover and let rest for about 5 minutes. The beans should have sort of a gummy, sticky, gooey texture. Awesomeness. That's it! You're done!
When I was a teacher, a lot of my students' moms made brought their kids bean tacos for lunch. My favorite days were when one of the mom brought me some too! This recipe is inspired by those lunches.
Heat some oil in a pan. Fill a flour tortilla with chipotle black beans, smashed avocado, and some shredded cheese. Put in the pan and heat, flipping once. For a mind-blowing experience, sprinkle a little shredded cheese on the outside of the taco, pre-flip. Flip it very fast, to have a crispy cheesy delicious coating on your tortilla.
* Meatless Monday - a movement to increase awareness of greener eating by encouraging people to eat meatless every Monday.